Articles avec 'medium kicks'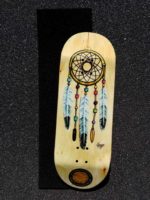 This Yellow Wood deck is high quality, made in Portugal, with 5 plies of exotic wood. It is 33 mm wide for 97 mm length and it gets medium kicks, cool for all levels, beginners as geeks of Fingerboarding!
This board has a medium concave, perfect for beginners as technical riders! It is 33mm wide, doble tail, delivered with quality rectangle rip tape + stickers.